Bramble's Edge Produce Delivery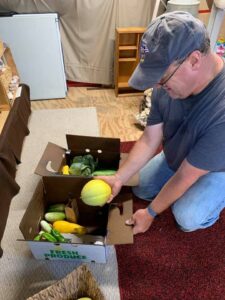 Our CSA deliveries include a variety of our seasonal farm-fresh produce and eggs. We also have select locally made products, flowers, herbs, and other items that will arrive straight from our farm to your door! 
Seasonal items you can expect in your delivery include:
Produce – Tomatoes, tomatillos, peppers, onions, garlic, pumpkins, summer squash, greens (lettuce, spinach), radishes, beets, collard greens, cabbage, broccoli, cauliflower, carrots, potatoes, raspberries, kale, loofa/luffah, brussel sprouts, asparagus, cucumbers, chocolate mint, swiss chard
Eggs – Farm-fresh eggs from a variety of chickens
Herbs – Basil, chives, catnip, rosemary, thyme, oregano, parsley, pineapple mint, orange mint, peppermint
Flowers – Lavender, gladiolas, Black-eyed Susan, daisies, strawflowers, sunflowers, and zinnias
Tea – Chamomile, red raspberry leaves
Seeds – Dill seeds, coriander, loofah seeds, hollyhock
Powders –  After we harvest some of our veggies, we save them, dry and grind them to a fine powder. We offer cayenne pepper powder, stevia, and more!